Faribault ESL Program
Adult English as a Second Language (ESL) program in Faribault
Participants
Immigrant communities

Licensed teachers

Program directors

Volunteers from the local 
high school

Neighboring colleges

Local community members

Somali-American Community 

 
Desired Outcomes
The ESL program in Faribault aims to equip immigrants  in Faribault with the necessary language skills required to thrive in their communities. It also brings together the immigrant community together with the local community in Faribault which fosters stronger relationships between the two groups.
How this project/organization build relationships
The ESL building has a room that can be rented out by the public, which means that many people from the community who rent it interact with the immigrant community. These interactions usually improve natives' perceptions of immigrants because they see immigrants trying to make an effort to learn English.
Costs
$6.80 per person contact hour
Time resources
The program offers three levels of ESL classes for three hours,  four times a week. 
Other resources
The local library provides books for students to use. When transport is scarce, members rely on carpools to get to class. 
Direct Partners 
Somali Community Resettlement Services (SCRS): provides navigator and interpreter

Somali American Faribault Education (SAFE) program: recruitment and transportation

MN Care Counseling

Faribault Public School High School volunteers

Falcons for Change Faribault Middle School volunteer program
Sponsors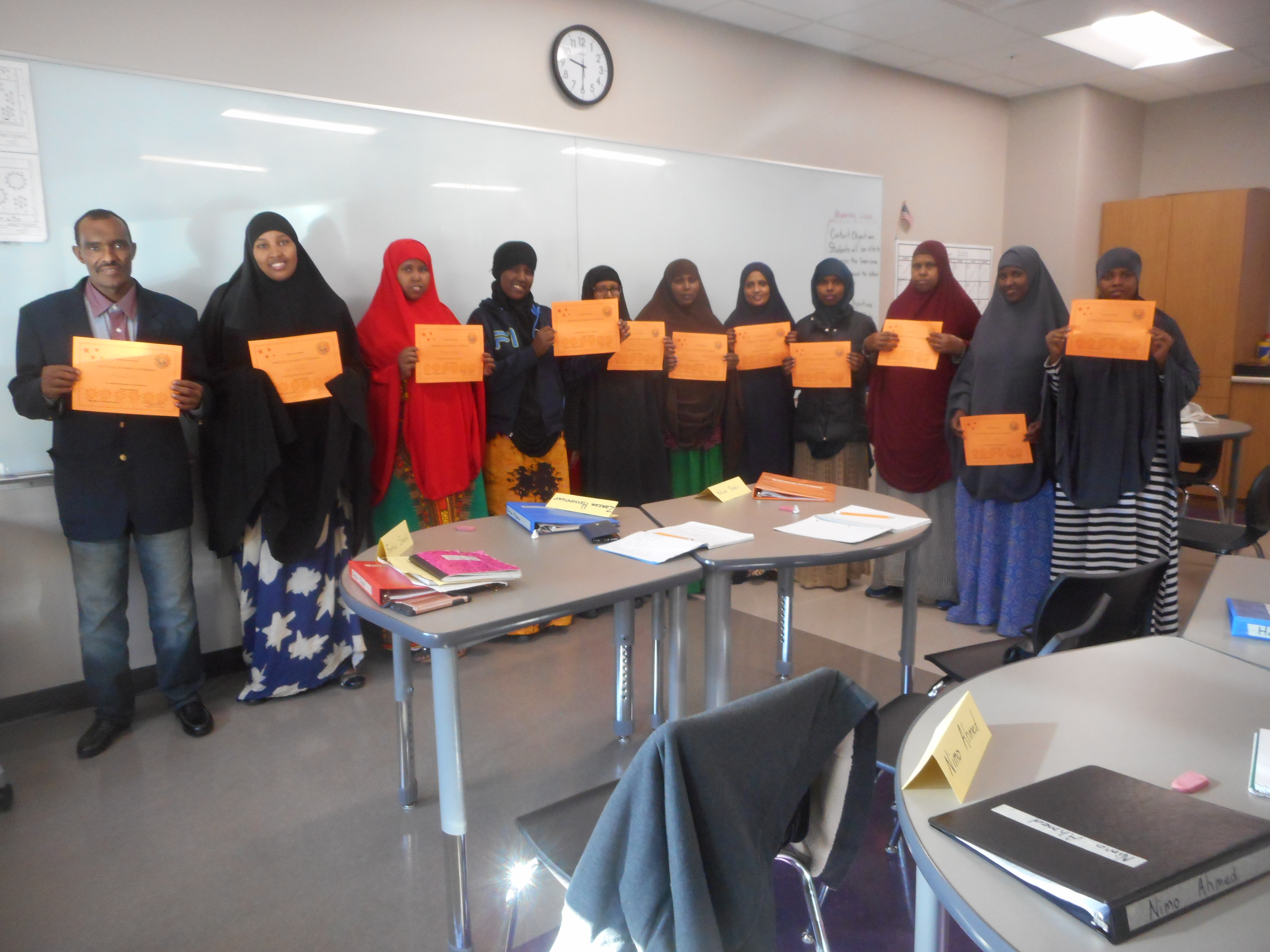 Our Story: "We want to learn about their culture just as much as they want to learn about ours"
The adult English as a Second Language (ESL) program in Faribault, Minnesota developed from a state-mandated Adult Basic Education (ABE) program, but the Faribault Program does more than the mandate requires. Directors, instructors, and community members come together to meet the needs of ESL learners through community engagement, alternative teaching methods, and collaborative efforts with employers. Cassandra Ohnstad is the Program Director, and she structures the program to meet the needs of immigrants and refugees, primarily Somalis who constitute 90% of the immigrant population and whose presence has been increasing over the years. Both, Ohnstad and previous director Yesica Louis, were a part of the Faribault public school system, and it is their experiential knowledge that has helped them successfully run the program. Currently, Faribault's ESL Program enrolls 470 students, and students hear about the program primarily through word of mouth.
Due to financial constraints, the Faribault ESL program provides only three levels of classes, condensing the six levels of the National Reporting System (NRS) for Adult Education standards. Still, the lowered cost of fewer classes allows for more flexibility in the curriculum. Upon finishing, students can choose to pursue their General Education Development (GED), an Adult Diploma Program (ADP), or other college preparation courses. The curriculum's diversity and rotating schedule allows students to join classes anytime regardless of their language proficiency level. Program staff modify the curriculum annually to account for changing student demographics and needs.
"If there is an issue, we will address it, and our participants know that."
 Ohnstad has an open door policy and encourages participants to be forthcoming with any issues they may have with the program. She places an importance on having a diverse staff to ensure any and all people feel welcomed. She also cooperates with local businesses and educational institutions to increase participation. Ohnstad encourages employers to allow their employees to attend classes if they have limited work hours. Both groups assess the needs of students and businesses to determine how best to help students gain upward mobility in the workforce. The availability of volunteers allows instructors to provide hands­-on and individualized education. Ohnstad screens all potential volunteers through an intense interview process and requires them to complete Minnesota Literacy Council training. This screening ensures highly competent and committed volunteers for the program.
Community engagement constitutes an important part of the program's focus. Middle school students in the Falcons for Change Program volunteer for the ESL Center once a month. Many of the middle-school students have parents in the ESL program, and they are able to request their parents' class to volunteer in. The Education Centre also has a rentable space in which different activities are held, and Cassandra encourages members to host events there. These interactions create better ties with members of the community. The Faribault ESL program's community-oriented approach has received attention from the state of Minnesota, which considers Faribault's program a model for other ESL programs throughout the state.
Benefits
The program helps students enter the workforce and develop skills for upward social mobility. Participants obtain the elementary skills necessary to assist their children's basic education at home and to better communicate with teachers. In addition, students have a higher chance of obtaining citizenship and an increased desire to participate in communal and political life. Finally, participants gain personal confidence and a sense of civic responsibility.
Challenges
Initially, pre-existing cleavages within the Somali Community divided ESL classes into two separate organizations: Somali Community Resettlement Services (SCRS) and Somali American Faribault Education (SAFE). These organizations were not state funded, thus limiting educational support. Cassie Ohnstad unified the two groups, delegating recruitment and transportation roles to SAFE and navigation and interpretation roles to SCRS.
Things to Remember
Hire intrinsically motivated and open staff.  There are limited financial benefits, meaning that staff must be passionate about their work. The staff are what keep the students interested in the ESL program.

Create partnerships: everyone can help Faribault ESL in some way, whether that be by providing used books or catering etc. Always look to create these relationships and don't burn bridges.

Look for additional funding sources: sponsorships, grants, and  co-funding positions.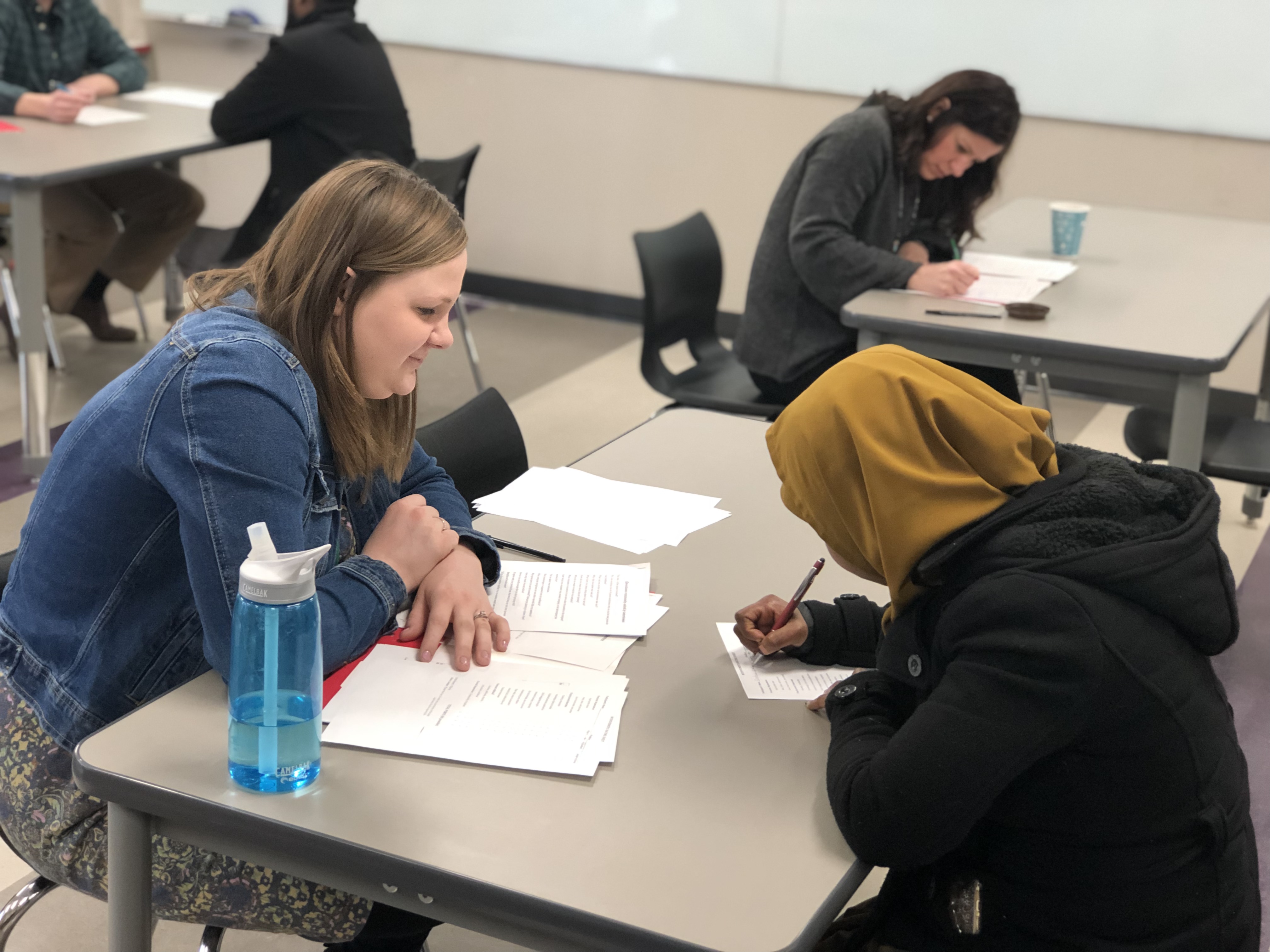 Learn more about this project from the people who created it: