Al Éxito
Empowerment of Latinx students and families through academic achievement, leadership development, and civic engagement
Participants
Latinx youth grades 6th through college and their families 
Desired Outcomes
Build better communities through Latinx excellence. 

Empower and invest in Latinx students to ensure they are contributing to Iowa's skilled workforce and leadership for the future. 

Provide Latino youth with opportunities to develop leadership skills and support to achieve their academic and career goals. 

Al Éxito demonstrates our impact through increased: 
school attendance 

academic achievement 

parent involvement 

graduation high school graduation rates 

enrollment in post-secondary education
How this project/organization build relationships
Al Éxito partners with other organizations supporting and developing Latinx excellence such as school districts, community partners, and organization.
Costs
A program can cost between $1,500 to $22,000 (all programs are free to participants 
Time resources
Al Éxito staff include Executive Director Dawn Martinez Oropeza and Assistant Director Ivania (Gabby) Guerra Ceron.  Over 50 Latinx and non-Latinxs are contracted per year. 

Weekly after school programs and year-long programs

New programs need to contact Al Éxito.

 
Other resources 
In 2018 Al Éxito published "Al Éxito Mental Health Study: Experiences of Latinx Youth." 

 In 2014 Al Éxito collaborated with Drake University Community Press on the book "The Ones I Bring With Me / Los Que Llevo Conmigo: Iowa's Young Latinas on Education, Identity and Success". The book features stories of Al Éxito students and mentors in both English and Spanish.
Direct Partners
School districts and colleges across Iowa

Grand View University

Simpson College, Des Moines University, Des Moines Area Community College

Des Moines Art Center

Iowa State Science Bound 

Drake University

Wesley Methodist Church and First Unitarian Church 
Other Sponsors 
The American Association of University Women-Iowa's Diversity and Equity Committee
Sponsors
School districts and colleges across Iowa

United Way of Central Iowa, Marshalltown, North Central Iowa and Wapello County

Wells Fargo, Principal Financial, Wellmark, Banker's Trust, 

Mid-Iowa Health Foundation

City and community foundations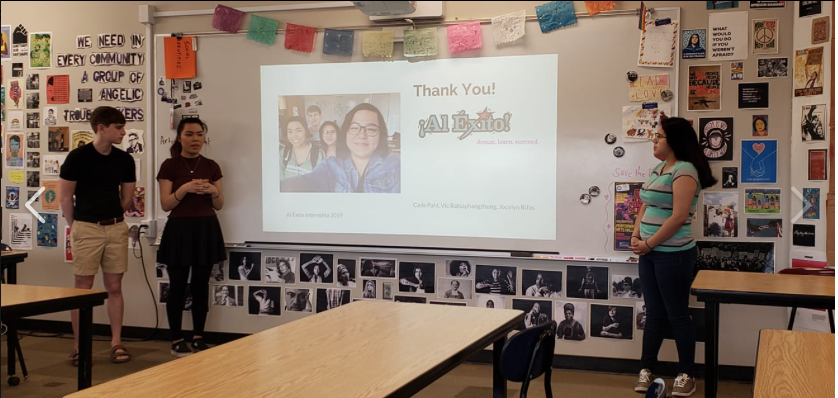 Our Story: "[Al Éxito] builds leaders for rural Iowa because that is their future"
Al Éxito empowers Latinx students and their families to succeed in Iowa through o higher education leadership development, academic achievement, and entrepreneurship. Al Éxito provides free weekly afterschool programs that build the leadership potential of Latinx students through a culturally relevant, asset-based curriculum, programming and enrichment opportunities. Al Éxito serves middle school and high school intensive programs based on cultural education and celebration. Movimiento Al Éxito high School Program provides weekly after school leadership through data analysis, civic engagement entrepreneurial development. All Al Exito programs have specifically designed college interactive campus tours and parent programs. Padres Unidos parent programs assist parents with understanding the U.S. education system, promotes high school graduation, and pathways to higher education for Latinx families. 
We go to battle a lot for kids. We're trying to create people who advocate for themselves — parents, kids, etc
In 2017 Al Éxito announced the creation of a scholarship award for its participants. The scholarship was created in honor of Iowa Civil Rights leader Mary E. Campos.  Students apply by answering questions regarding their participation in Al Éxito Programs and similar to Mary E. Campos' strong leadership and advocacy record they are asked to discuss the ways they are involved in their communities. The students are chosen by a group of panelist that includes Mary E. Campos and some of her family members. Scholarship amounts vary yearly with funding changes. Funding is gathered through a yearly luncheon celebrated close to Mary E. Campos's birthday, November 14. 

In 2017, Al Éxito launched its first youth-led business |drēm|sēd| (pronounced dream seed). After several years of planning, Al Éxito youth created the mission, vision, a business plan, and launched their website www.dremsed.org. |drēm|sēd highlights and strengthens entrepreneurial skills in youth by allowing youth to lead every aspect of the business. |drēm|sēd| partners with Spanish-speaking businesses to create a product to cross-promote the partnering business and |drēm|sēd|. The students pitch the idea, design the products, find manufacturers, and go to market with the products. |drēm|sēd is led by a youth CEO and department leads that are paid positions. All proceeds go back to Al Éxito.

Al Éxito University, summer intensive college preparatory camp, collaborates with numerous organizations and college programs across Iowa. Al Éxito University consists of two days/ three nights at a college in Iowa. In 2018 Al Éxito University took place at Grandview University in Des Moines.  2019 Al Éxito University took place at Simpson College in Indianola, Iowa with presenters representing the majority of colleges in Iowa. Al Éxito hires college students to be the resident assistants and role models for the duration of the program. 

Resilient Identity Community Alliance (RICA) was created by a group of students in 2018 to address students identity, including LGBTQ+ issues and allies. 

In 2018 Al Éxito published a mental health study, in partnership with MidIowa Health Foundation, that emphasized the need for mental health services in schools to assist Latinx youth suffering from mental health issues. Al Éxito created a Youth Mental Health Taskforce that advocates on mental health issues affecting the Latinx youth in Iowa.  

Latinas Latinos Al Éxito Inc (Al Éxito) is a 501(c)3 nonprofit organization.  Latinas al Éxito was a pilot program for 8th grade Latinas in Marshalltown in 2006. The American Association of University Women-Iowa's Diversity and Equity Committee sponsored the pilot program. Latina leaders (madrinas) came together to assist in creating a mentorship program for 8th grade girls that would guide them to academic success in the future

Al Éxito consisted of all-volunteer leadership until March 2013 when the Board of Directors hired Dawn Martinez Oropeza as the Executive Director Al Éxito programs are implemented in eight communities across Iowa: Belmond, Clarion/ Goldfield/ Dows, Des Moines metro, Hampton/Cal, Marshalltown, Ottumwa, Perry and Tama/ Toledo.

 
Benefits
Al Éxito provides support and opportunities for Latinx families in Iowa. Programs provide opportunities to build self-advocacy and leadership for all participants. 
Challenges
Iowa is a rapidly changing and, in many communities,  Latinos are the fastest growing populations. The role of Latinos is not only shaping the country's political and economic climate, but Iowa's as well. Al Éxito families are under great stress due to the political climate in Iowa and the nation. Evaluation results and the mental health survey demonstrate yearly increases of racial attacks and growing disparities in economic access in schools and communities which is creating greater stress and lack of mental health wellness for our participants.
Things to Remember
Success for Latinx in Iowa ensures that Iowa's economy and leadership continues to grow and thrive.

Engage and support Latinx organizations developing Iowa's future leadersInclude Latinx in policy and discussion making.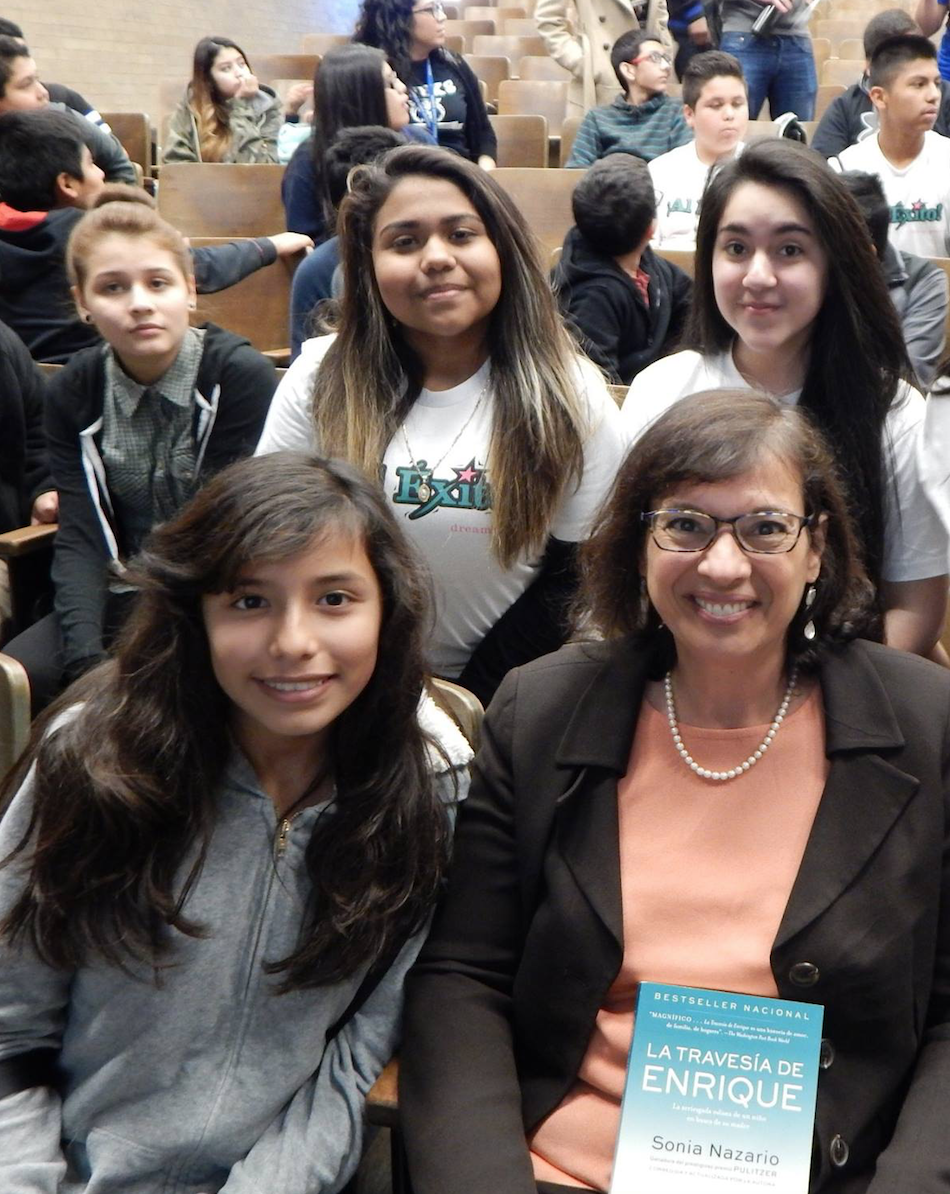 Learn more about this project from the people who created it: